The Britannia Morris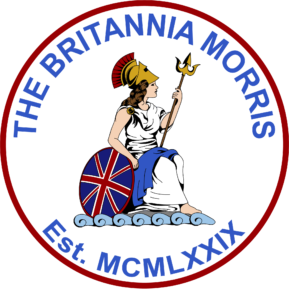 What is Morris Dancing?
Morris dancing is a type of English folk dancing originating in the 14th century. It is most typically danced in sets of six or eight people with props such as sticks, hankies bells and flowery hats to give flourish to the dance. There are a number of styles of Morris, with the most well-known being the Cotswold, Border, or North-West styles. For more information on Morris dancing check out the wikipedia page.
Who are The Britannia Morris?
The Britannia Morris formed in 1979 in Melbourne; we started out as a men's only side but became mixed in 2018. We dance the Cotswold style of Morris, and primarily in the Melbourne-developed tradition of Kellybrook Stout Matron; but we also dance dances from several other traditions, including Adderbury, Bledington and Badby. We dance at festivals and events all around Melbourne but also throughout Victoria, and interstate as often as possible. Our most notable regular gigs include Maldon Folk Festival and the Kellybrook Cider Festival.
The dancers of the side are supported, in no small part, by our wonderful musicians. We always have and always will dance to live music.
We practice fortnightly on Fridays at the The Black Sheep in Hawthorn starting at 7:30pm and will normally stay back afterwards for a nightcap when we're done.
Contact us:
Do you need a Morris team to enliven your fête, party, festival, whatever? Better yet, do you want to join in? We are always looking out for new dancers and musicians. We practice on Friday evenings.
Please contact one of these:
Squire: Keith Russell
gigs@britannia.org.au
Bagman: David Purdue
gigs@britannia.org.au
And check us out and like us on Facebook and Instagram